NHS Estate Energy & Cost Study
Working on behalf of the LIFT Council (trade association for Local Improvement Finance Trust organisations), ARB staff led on an assessment of energy and carbon performance across the UK's Primary healthcare estates.
The report identified that Trusts could save more than £47 million over the next five years through the adoption of better energy efficiency. It identified extensive variation in performance across Trusts' estates. The LIFT Council has called for all Trusts and their successor bodies to adopt long-term carbon management strategies to minimise their emissions – in addition to the 'quick wins' achievable through modest changes in practice.
David Pokora, Executive Director, The LIFT Council, said: "This report constitutes the most comprehensive analysis to date of the NHS's own figures for PCT carbon emissions. There is clearly an opportunity for primary care to make significant and valuable savings by adopting better practice when it comes to its carbon footprint."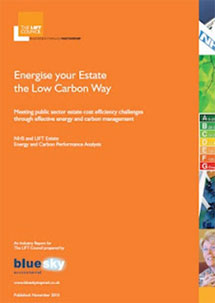 Andy Brunt, Director of ARB Consulting, and co-author of the report, said: "Analysing data provided by PCTs themselves has enabled us to get a detailed insight into the scale of potential cost-saving benefits that can be gained from effectively targeted and implemented carbon and energy saving measures."
"With public sector spending under increased pressure to deliver cost efficiencies, the importance of targeting investment to where it can be most effective is paramount. Our report allows for the first time direct comparison of performance between Trusts for energy consumption and carbon emissions."
"Strategic investment of the right type in areas where there is greatest opportunity to achieve significant energy and carbon reductions will maximise savings whilst minimising the initial investment required to achieve them – a truly 'win-win' outcome."