Greenhouse Gas Monitoring & Management
ARB offer expert greenhouse gas management services covering emissions benchmarking, baseline assessment, monitoring and reporting. We are experienced in helping clients to devise and install effective  systems to meet the requirements of IS04064 and the GHG Protocol, along with Carbon Disclosure Project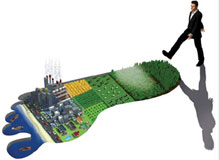 documentation.
We also offer advisory services for organisations covered by the CRC Energy Efficiency Scheme and those (listed companies) who will be required to undertake mandatory corporate emissions reporting, under UK legislation from April 2013.
Services include:
GHG inventory and carbon footprint accounting processes
Strategies for emissions reduction and offsetting
UK CRC Energy Efficiency Scheme monitoring and reporting systems
GHG emissions reporting and verification
GHG data management and quality assurance systems
Corporate GHG assurance
Expert representation to stakeholder groups
See one of our case studies for a recent example of our work in this area.