Dynamic Thermal Modelling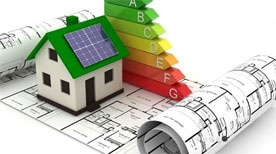 Our dynamic building modelling service utilises a software simulation package (IES or designbuilder) that creates a 3 dimensional model of a building and allows its performance across a range of environmental parameters to be accurately modelled, based on detailed design information. These parameters include:
Year round internal thermal comfort criteria
Summertime overheating (compared with building regulations or specific building type requirements, e.g. healthcare or education)
Predicting energy demand across different systems and design options uses
Daylight analysis and daylight factors
Solar gain and shading analysis – to determine the optimal solution
Calculation of CO2 emissions and savings for different design options
Modelling should be undertaken at an early stage in the design process.  This allows scope for architects and design teams to make informed decisions and ensure that the building design meets its performance requirements in the most cost effective and environmentally preferable way, reducing energy demand, maintenance requirements, carbon emissions ensuring that building users have a high quality internal environment.
Our expert advice means we can ensure your building passes Building Regulations Part L and achieves the required EPC rating!